The following sections summarize the requirements set out in Transport Canada's Interim Order Respecting Certain Requirements for Civil Aviation Due to COVID-19.
(While every effort will be made to keep the information on the IO up to date, the IO is amended every 2 weeks or less, so there may be a delay between a change in rules and the updating of this site.)
Vaccination Status (IO Sect 17.2)
Per the Government of Canada's vaccination mandate for air travel, all passengers over the age of 12 years + 4 months must be fully vaccinated against COVID-19. This means that at least 14 days prior to the flight, a passenger has had two or more doses of one of the vaccines recognized by the government of Canada, or one dose of Janssen/Johnson & Johnson.
All Sable Aviation pilots are fully vaccinated.
Proof of Vaccination (IO 17.10)

Prior to flight, all passengers must provide proof of vaccination and ID. The proof of vaccination must be in English or French and show the person's full name, the entity that administered the shots (i.e. provincial government), the type of vaccine(s) received, and a date when the final dose was received. QR codes will not be accepted. Some people may have booster shots, however, at present these are not required to be considered fully vaccinated. Please note that Transport Canada could change this requirement at any time.
If you were vaccinated in Nova Scotia, you can access your record online.
Health Check (IO Sect 7-10)
Passengers must complete a company health check form prior to boarding indicating that they do not have symptoms of COVID-19 (fever, cough, and/or breathing difficulties), do not suspect they have it, are not under a provincial or federal mandatory quarantine order, and have not been denied boarding from another commercial flight within the last 10 days due to exhibiting symptoms. Please do not e-mail us a copy of this form as the pilot will need to endorse the hard copy prior to flight.
COVID-like Symptoms (IO Sect 8(2)(a), 10)
If a passenger is exhibiting symptoms from an unrelated medical condition such as asthma or COPD, they must have a medical certificate indicating that the symptoms are unrelated to COVID-19 or be denied boarding. If denied boarding for this reason, under the provisions of the Interim Order that person is also prohibited from boarding any commercial flight in Canada for the next 10 days without a medical certificate indicating that the symptoms were not COVID-19 related.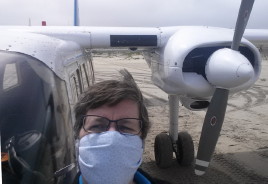 Face Masks (IO Sect 1(4), 1(5), 18-28)
Passengers are required to wear an appropriate face mask during check-in, boarding, for the duration of the flight, and during embarkation. Due to the short duration of the flight, passengers will not be permitted to remove their mask to eat during flight, however, if they are in need of a drink, they may briefly move aside their mask to do so. Passengers must comply with any instruction given by a crew member with respect to wearing a face mask.
A face mask means any medical or non-medical mask:
- made of multiple layers of tightly woven material such as cotton or linen
- large enough to completely cover a person's nose, mouth, and chin without gaping
- that can be secured to a person's head with ties or ear loops
- that does not have an exhalation valve
Gators and handkerchiefs are not suitable.
The portion of the mask in front of a wearer's lips may be made of transparent material that permits lipreading if the rest of the mask is multiple layers of tightly woven materials with a tight seal between the transparent material and the rest of the mask.
Limited Exemptions (IO Sect 17.3(2))
For those travelling to Sable Island for work, Transport Canada has defined certain extremely limited criteria when an unvaccinated person may be allowed to travel on a flight, such as when medically unable to be vaccinated. A completed temporary exemption request form and supporting documentation must be submitted to Sable Aviation at least 21 days in advance of a flight, so the request for forms should be made well in advance. A temporary exemption is only good for the one flight to which the paperwork refers; each additional flight must have its own exemption request and supporting documentation.
If the request for a temporary exemption is granted, on the day of the flight, the passenger must present either (a) proof of a negative COVID-19 molecular test from an accredited laboratory done within the last 72 hours or (b) provided they are symptom free, a positive COVID-19 molecular test from an accredited laboratory taken between 10 and 180 days before the trip. Antigen tests are not acceptable. See a list of acceptable molecular tests here
For tourists, per Nova Scotia provincial regulations, all individuals participating in recreational activities such as tours to Sable Island must show proof of full vaccination or else have been granted a medical exemption. In this case, the individual must first apply for the exemption from the provincial health authority, and if granted, must then submit the provincial documentation as part of the Sable Aviation temporary exemption request described above. All timing, testing, and requirements descibed in the previous paragraphs must be followed.
Denial of Boarding and Potential Penalties (IO 9, 10, 17.14, 17.15)
Anyone who cannot provide proof of vaccination, does not have a valid exemption and appropriate molecular test, refuses to wear a face mask, or exhibits symptoms of COVID-19 without having a valid medical certificate indicating the symptoms are not COVID-19 related will be denied boarding. In the case of prepaid tourist seats/flights, no refund, compensation, or consideration will be given.
The Interim Order dictates that anyone attempting to board a flight under false or misleading circumstances is further prohibited from boarding a commercial flight in Canada for 72 hours. The air carrier is required to report to Transport Canada the reason for the denial and information regarding the identification of the passenger.
Violations of the Interim Order have associated penalties of up to $5,000 for individuals and up to $25,000 for corporations.