Vaccination Status
As of Oct 4, 2021, the government of Nova Scotia requires anyone* over the age of 12 who wishes to participate in certain non-essential activities be fully vaccinated against COVID-19 (see full text here).
One of the sectors that is listed under these new requirements is indoor and outdoor recreation activities, including outdoor adventure tours. Sable Island is certainly an adventure, and we want everyone travelling with us to be safe while enjoying this trip of a lifetime. All tourists on flights occurring after Oct 4 will be required to present proof of vaccination, or be denied boarding (no refund will be issued).
*Only the following individuals will be excused from the requirement to be fully vaccinated: individuals who have an exception letter for a medical reason or because they are in a clinical trial for a COVID-19 vaccine, and anyone who turned 12 in 2021 (applies to the current tourist season only).
Proof of Vaccination
Prior to any tourist flight, all passengers must provide proof of vaccination and valid ID. The proof of vaccination will, at a minimum, show the person's name, the brand of vaccine received, an indication that all required doses for that brand of vaccine were received, and a date when the final dose was received. If you were vaccinated in Nova Scotia, you can access your record online. For information on your Nova Scotia vaccination record and other information, please see the following guidance document.
Vaccines Approved Under Nova Scotias Rules
Two doses of any of the following groups must be given, with full vaccination status being reached 14 days after the second dose:
Pfizer, Moderna, AstraZeneca - may be of the same type or any combination of the three
Sinovac, Sinopharm - may be of the same type or one of each
Full vaccination status is reached 14 days after a single dose of the following:
Janssen/Johnson&Johnson
Some people may have extra doses of vaccine. These are not reqired for proof of full vaccination, but it is okay if their records show these extra doses. This and other information may be found in the guide for businesses requiring proof of full vaccination.
Safety Protocols During Flight
Transport Canada places certain restrictions/requirements on both Sable Aviation and its passengers via an Interim Order. This document has the force of law, and penalties for violation of these requirements or falsifying information may result in a fine of up to $5,000 for individuals, and up to $25,000 for corporations.
Passengers are required to wear an appropriate face mask, respect all federal and provincial isolation and vaccination requirements, and complete a health check immediately prior to flight. Passengers also must not have been denied boarding on any aircraft within the previous 14 days due to COVID symptoms. Failure to comply with all aspects of the Interim Order will result in the passenger being denied boarding and no refund will be issued.
Face Masks
A face mask means any medical or non-medical mask:
- made of multiple layers of tightly woven material such as cotton or linen
- large enough to completely cover a person's nose, mouth, and chin without gaping
- that can be secured to a person's head with ties or ear loops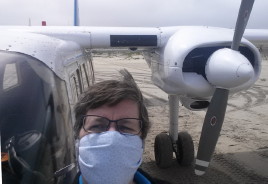 - that does not have an exhalation valve
Gators and handkerchiefs are not suitable.
The portion of the mask in front of a wearer's lips may be made of transparent material that permits lipreading if the rest of the mask is multiple layers of tightly woven materials with a tight seal between the transparent material and the rest of the mask.
Passengers must wear their mask during check-in, boarding, for the duration of the flight, and during embarkation. Due to the short duration of the flight, passengers will not be permitted to remove their mask to eat during flight, however, if they are in need of a drink, they may briefly move aside their mask to do so. Passengers must comply with any instruction given by a crew member with respect to wearing a face mask.
Safety Protocols on Sable Island
In order to keep Sable Island personnel safe, interaction between staff and visitors is minimized. Visitors do not have access to vehicles and are not taken back to the station, but begin their Sable adventure directly from the aircraft (a rudimentary privy toilet and potable water will be available in the vicinity). Please maintain a 2 metre distance from Sable staff at all times.