Since air transportation is federally regulated, it is subject to the requirements of Transport Canada's Interim Order Respecting Certain Requirements for Civil Aviation Due to COVID-19, No. 73.
*Since many browsers buffer content for faster viewing, you should reload the page frequently (i.e. select CTL-F5 for some browsers).
Health Check
Passengers are not required to be vaccinated against COVID-19, but must complete a company health check form prior to boarding, confirming they do not have symptoms of COVID-19 (fever, cough, and/or breathing difficulties) and have not had the onset of symptoms or an initial positive test within the last 10 days (per the Interim Order).
COVID-like Symptoms
Those exhibiting COVID-19 symptoms will only be allowed to board if they are in possession of one of the following:
(1) a medical certificate indicating the symptoms are due to an unrelated medical condition;
(2) a negative COVID-19 lab certified molecular test that was performed on a specimen collected no more than 72 hours before the flight;
(3) a negative COVID-19 lab certified antigen test that was performed on a specimen collected no more than 24 hours before the flight; or
(4) a positive COVID-19 lab certified molecular test that was performed on a specimen collected more than 10 days and no more than 180 days before the flight.
Calculating the Mandatory Isolation Requirement
The mandatory federal isolation requirement of 10 days is counted from the day after symptoms appeared, or the day after a positive COVID-19 test result, whichever occurred first.
Example:
Symptoms appeared on May 1, but a positive COVID-19 test result didn't happen until May 4 - May 2 would count as day 1 of the isolation period. That means that May 11 would be the 10th day, and travel could occur on May 12.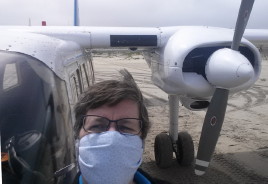 Face Masks
Passengers must wear an appropriate face mask during boarding, for the flight, during embarkation or whenever so directed by a crew member.

A face mask means any medical or non-medical mask that:
(1) is multiple layers of tightly woven material such as cotton or linen;
(2) covers a person's nose, mouth, and chin without gaping;
(3) can be secured with ties or ear loops; and
(4) does not have an exhalation valve.
Gators and handkerchiefs are not suitable.

The portion of the mask in front of a wearer's lips may be made of transparent material so long as there is a tight seal between the transparent material and the rest of the mask.

Denial of Boarding and Potential Penalties
Anyone who refuses to wear a face mask, has had the onset of COVID-19 within the previous 10 days or exhibits symptoms of COVID-19 without appropriate documentation; a refund or compensation will not be given.

Air carriers are required to report to Transport Canada the reason for the denial of boarding and the identification of the passenger.

Persons who provide false or misleading information may be subject to fines of up to $5,000 for individuals and up to $25,000 for corporations.