Safety Protocols During Flight
Transport Canada places certain restrictions/requirements on both Sable Aviation and its passengers via an Interim Order. This document has the force of law, and associated penalties for violation of these requirements or falsifying information may result in a fine of up to $5,000 for individuals, and up to $25,000 for corporations.
Passengers are required to wear an appropriate face mask, respect all federal and provincial isolation and/or vaccination requirements, and complete a health check immediately prior to flight. Passengers also must not have been denied boarding on any aircraft within the previous 14 days due to COVID symptoms. Failure to comply with all aspects of the Interim Order will result in the passenger being denied boarding and no refund will be issued.
Federal/Provincial Restrictions
To ensure that passengers are not restricted by any provincial or federal travel restrictions, well prior to the flight, they must provide documentation that proves their vaccination status, or if not fully vaccinated, their residency and length of time in the Atlantic region (i.e. driver's licence, airline boarding pass or entry permit if arriving by car). Sable Aviation staff are fully vaccinated, and while this is not yet a requirement for passengers, a federal government announcement on Aug 13 has indicated that at some point in the fall, all commercial air passengers will be required to be fully vaccinated. Rather than just hoping that the restrictions do not come in early, you should get fully vaccinated as soon as possible. Refunds will not be issued to those who cannot meet federal and/or provincial COVID requirements (note that those with documented medical restrictions will be given an alternate procedure based on federal recommendations).
Face Masks
A face mask means any medical or non-medical mask:
- made of multiple layers of tightly woven material such as cotton or linen
- large enough to completely cover a person's nose, mouth, and chin without gaping
- that can be secured to a person's head with ties or ear loops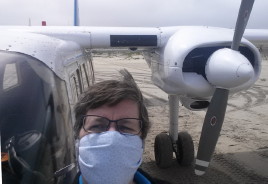 - that does not have an exhalation valve
Gators and handkerchiefs are not suitable.
The portion of the mask in front of a wearer's lips may be made of transparent material that permits lipreading if the rest of the mask is multiple layers of tightly woven materials with a tight seal between the transparent material and the rest of the mask.
Passengers must wear their mask during check-in, boarding, for the duration of the flight, and during embarkation. Due to the short duration of the flight, passengers will not be permitted to remove their mask to eat during flight, however, if they are in need of a drink, they may briefly move aside their mask to do so. Passengers must comply with any instruction given by a crew member with respect to wearing a face mask.
Safety Protocols on Sable Island
In order to keep Sable Island personnel safe, interaction between staff and visitors is minimized. Visitors do not have access to vehicles and are not taken back to the station, but begin their Sable adventure directly from the aircraft (a rudimentary privy toilet and potable water will be available in the vicinity). Please maintain a 2 metre distance from Sable staff at all times.