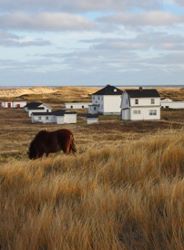 We at Sable Aviation feel privileged to provide fixed-wing aircraft charter service to Sable Island, a delicate crescent of sand located 300 km south-east of Halifax, NS. Since there is no airstrip on the island, our BN-2A Britten Norman Islander aircraft lands on the sandy expanse of the island's south beach.
Sable Island is a National Park Reserve, so Parks Canada has sole control over approving and scheduling visitor flights. The visitor season runs from June through October; to avoid interfering with station operations, fixed wing visitor flights are only approved on weekends.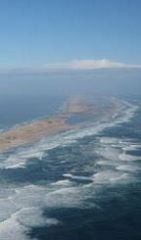 Please note that Sable Island, while beautiful, is physically demanding, and those with mobility or health issues may better explore the island virtually through the various Sable Island exhibits on display at local museums and the many videos available online. To enjoy Sable, you should be comfortable walking long distances in soft sand (5 km is an absolute minimum, although 10 km is more likely), often under a hot sun and/or with high wind. All travel is by foot - there is no option to be transported by vehicle. Please do not put Parks Canada staff in an awkward position by asking them for a drive - this rule has been put in place to protect them from contracting COVID in such an isolated and challenging environment.
We are in the process of reviewing the 2022 visitor season and will have details posted here (and on our FAQ page) about what to expect in 2023 by December or early January at the latest. All flight dates in 2022 were reserved within minutes when we opened for reservations in mid-January of this year, so be sure and check back here early in January 2023 so you don't miss the chance to book on this once-in-a-lifetime trip!

If you would like to see photos of our days on Sable, be sure and check out our company Facebook page.