Sable Aviation is pleased to be the official fixed wing service provider to Sable Island - a National Park Reserve located 300 km south-east of Halifax, NS. Since there is no airstrip on the island, our BN-2A Britten Norman Islander aircraft lands on the sandy expanse of the island's south beach.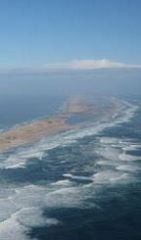 Sable Island is approximately 42 km long and 1.5 km wide at its widest point, with the south landing beach making up about 10 km of its length. Seemingly little more than a sand bar covered in marram grass, Sable Island is home to hundreds of feral horses, thousands of birds, several hundred thousand seals, and a handful of year-round human inhabitants.
While access to the island is strictly controlled in order to protect its delicate environment, Parks Canada is pleased to welcome visitors, who need only pre-register with their desired travel date.