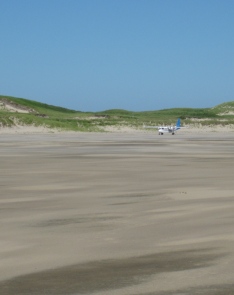 Tourist Seat Sales
When can I purchase seats for 2023?
Please check back late in December or early in January 2023 for details on seat sale dates in the 2023 visitor season.
How much does a single seat cost?
The price for a single seat in 2022 was $2,080.00 CAD, including all fees and taxes (base rate $1,652.63 + $156.07 fees + $271.30 HST). Payment in cash (CAD) or equivalent* reduced the cost to $2,000.00 (including all fees and taxes).
*e-transfer, money order, bank draft
When is payment due?
A $150 deposit ($155 if paying by credit card) is required to book your seat, with full payment due 30 days prior to the flight. At that point the payment becomes totally non-refundable unless the flight is cancelled by us due to weather, beach condition, etc. Although non-refundable, seats are fully transferrable to another person.


Flight Information
How many people can the aircraft carry?
The aircraft can carry up to 7 passengers so long as the weight limit is not exceeded (see next question).

Is there a total weight limit for the flight?
Yes, the aircraft manufacturer has defined a maximum amount that the aircraft can safely and legally carry, which means that all passengers and their baggage must not exceed 1400* lbs in total.

How long will it take to fly to Sable Island?
In normal wind conditions (i.e. tailwind on the trip out, headwind on the return), the trip to Sable takes about 1:10, with a return time of approximately 1:40.

Is there anything I can't carry on the flight?
There are certain items that in large quantities are classed as dangerous goods, but may be carried by individuals for personal use. These include things like lighters and e-cigarettes (one only in each case, carried on your person, and prevented from accidental activation), and spare batteries. All batteries must be prevented from shorting (i.e. taped over, or carried in their own individual baggie), but while standard AA/AAA batteries may be carried in your baggage, lithium batteries must be on your person.

Is there an age limit for the flight?
Due to seat configuration and limitations on safety equipment, we cannot carry children under 2 years old. That being said, Sable Island is a backcountry-like experience, with long days, no shelter and sometimes rugged conditions. We do not recommend this trip for children under the age of 12.

Do I get to pick my own seat or is seating assigned?
Although we will make every effort to accommodate seating requests and to keep travel buddies together, due to weight and balance restrictions, seating will be assigned by the pilot to keep the total weight distribution within acceptable limits.

Meeting and Timing
Where do we meet for the flight?
Sable Aviation departs from the Gateway Facilities Hangar, which is located at the Halifax Stanfield Airport at 645 Pratt and Whitney Drive. Check out the location page for more details.

What is the parking situation?
The Gateway Facilities Hangar has plenty of free parking available for day-trippers on Sable Aviation flights - you do not need to worry about finding a parking space.

When should we arrive at the airport?
Your flight organizer (Sable Aviation or a local tour operator) will inform you in advance of the flight when to meet at the airport (usually around 7:30).

When will we get airborne?
It generally takes about an hour after all passengers have arrived to weigh everyone and their bags, perform bio-security measures, check vax documents and get briefed on the safety features of the aircraft. Also, we can't depart from Halifax until we hear from the Operations Coordinator on Sable Island that there is a safe area to land on the beach. This could be as early as 08:00, but will be later if the most recently used landing area is not suitable that day. In that case, they will search the entire 10 km length of the landing beach for an area that will meet the requirements for a safe runway. Sometimes there is no suitable area at all, and the flight will be moved to the backup day.


How long can we stay on the island?
The length of time that the aircraft can stay on the island is primarily based on time of sunset, but occasionally may be impacted by changing weather; departure must occur prior to dark. If unforeseen weather deteriorations occur in Halifax, enroute, or on the island, the pilot may require an early departure to ensure the safety of the flight. While we will do everything in our power to avoid cutting your day short, weather in this part of the world can change quickly, and the pilot's decision will always err towards the side of caution when it comes to flight safety.
Please remember to discuss with the pilot the time you must meet at the aircraft before heading out for the day.
Are flights delayed very often?
Unfortunately, yes - flights to Sable are often delayed due to poor weather or unfavorable beach conditions, which is why all tourist flights are assigned a backup day. Sometimes even that is not enough, and some groups will simply not make it out to Sable due to poor conditions. Such is the nature of landing on a beach on a remote island in the North Atlantic!
Parks Canada has mandated that station operational flights take priority over visitor flights. While they will do everything in their power to avoid bumping you, there are times when equipment requirements, stranded personnel, etc may necessitate cancellation of your booking.
What time of the year tends to have the least number of delays?
Weather is unpredictable in this area of the world, and the only constant on Sable is change. We used to recommend August and September as the best months, however, in 2020 there was so little rain that the beach remained too dry to land for the entire month of August. In 2019, the beach flooded in September and no tourist flights made it out for that month. Spring and early summer are known locally as "fog season", but if you happen to luck into a good day, you will also be treated to one of the longest days of the year.
Are there standards and/or compensation for the sale of individual seats?
If you are denied boarding due to situations within the carrier's control (i.e. not weather, beach condition or pandemic) or your baggage is lost or damaged, you may be entitled to certain standards of treatment and compensation under the Air Passenger Protection Regulations. For more information about your passenger rights please contact Sable Aviation or visit the Canadian Transportation Agency's website.


Trip Details


What happens when I arrive on Sable?
After landing, you will be greeted at the aircraft by the Parks Canada Operations Coordinator, who will do an orientation briefing and then distribute SPOT satellite trackers. After the briefing, you will be provided with an opportunity to go on a guided tour that lasts about 2 hours, and then you will be free to explore the island on your own. The pilot will have given you a time to meet back at the aircraft at the end of the day - don't be late - sunset waits for no one and the aircraft needs to be off the island before dark.

The guided tour is usually done by island staff and visitors are asked to help keep them safe by maintaining a minimum 2 metre distance at all times. Tourists are not allowed in vehicles and will therefore not be driven back to the station, so you will start your Sable adventure from wherever the aircraft lands. A jug of potable water will be set up in the vicinity of the aircraft and there will usually be a rudimentary privy toilet available as well.

What should I wear for my day on Sable Island?
Although you may want clothes for sunny weather, even in summer it can often turn cool on the island, so be sure and take a windbreaker and warm sweater. In fall and spring, your clothes will need to be warmer than you might expect - the wind and high humidity make Sable weather feel cooler than the numbers would seem to indicate.

Comfortable footwear is absolutely essential, as you will most likely be walking many miles in soft sand. Due to the coarse vegetation on the island and potentially semi-buried debris, flip-flops and similar footwear are not recommended. Sneakers or other shoes with a mesh upper tend to quickly fill with sand, so closed footwear is recommended.

Even on foggy or overcast days, the UV index on Sable can be very high, so along with sunglasses, be certain to wear a hat that will provide adequate sun protection, and don't forget your sunscreen and lip balm with an SPF rating. Don't forget, there are no trees on Sable Island, so the only shade available is under the wings of the aircraft.

What should I take with me on my day trip?
A camera is a must-have, but don't forget to bring along your water bottle, a hearty lunch and extra snacks as well - there is nothing like walking in soft sand to build up a good appetite! You may also want to carry a small bottle of hand sanitizer and tissues.

Although highly unlikely, the possibility of being delayed on Sable Island does exist, so if you are on any critical medication, you should bring at least a week's supply.

Can I drink the water on Sable or should I bring my own?
Sable Station uses treated well water, and the Parks staff will provide a jug of potable water beside the aircraft for your use throughout the day, so be sure and bring a refillable water bottle.
Is there cell phone coverage on the island?
There is no cell coverage on Sable Island, so switch that smartphone to airplane mode and enjoy the peace of this beautiful location!
Will I get to go to Main Station?
Although tourists are not prohibited from visiting Main Station, the exact location of the aircraft landing area is often unknown until the day of the flight, and is frequently too far from the station to walk to it. If you do make it to the station, the only area open to the public is the sunroom of the visitor's quarters, where there is a public washroom. As per Nova Scotia COVID guidelines for public places, masks must be worn in this room.
Can I stay overnight on Sable Island?
No, overnight stays are not permitted.
Protecting Sable's Delicate Ecosystem
Are there any restrictions on items I can bring to Sable Island?
Sable Island is a remote and isolated destination, so it is important to avoid contamination from mainland species. The Parks Canada biologist for Sable Island has requested that all equipment brought onto the island be clean prior to leaving Halifax - footwear should be brushed and washed; clothing, boots and backpacks should be inspected for any seeds or invertebrates (e.g. insects, spiders, ticks). No horseback riding gear is permitted, nor may any footwear worn on a horse farm or around horses be taken on the island. Clothing worn around horses or on a horse farm should be machine washed or dry cleaned and then stored for five days prior to your arrival. By taking special care when preparing for your trip, you can participate in the protection of Sable Island so it can be enjoyed for many generations to come.
What about the garbage generated by tourists?
Tourists that travel to Sable Island generally do so because they are in awe of this special place. For this reason, they tend to be cooperative and respectful when dealing with the island's fragile ecosystems. All garbage generated by tourists or the pilots is brought back to the mainland for disposal.
Are there any vehicles, such as ATVs, that I can rent to tour around the island?
No, due to the fragile nature of the landscape, vehicles are not available for rent, nor do visitors have access to station vehicles. All travel by Sable is on foot, starting from wherever the aircraft lands.