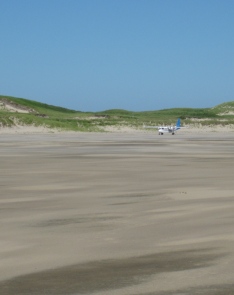 How much does a seat on a tourist flight cost?
The price for a same-day return seat in 2023 remains at $2,000.00* CAD (includes $394.65 fees and taxes - contact the company office for a breakdown of fees).
*Please note there is an additional fee if paying by credit card (see question on methods of payment for details).

Can I reserve more than one seat?


Certainly! You may reserve as many seats as you would like, so long as there is availability on your requested date.

How do I reserve - is there an online form?


There is no form, nor do you need to contact Parks Canada, you just need to send us an e-mail with the requested date and number of seats. We also need everyone's name, contact info, and weight (dressed for the day, including footwear but not a backpack).

What dates are available in 2023?
In order to avoid interfering with station operational flights, our tourist flights are only flown on weekends. In each case, Saturday is the primary flight date, with Sunday reserved as the backup; you must be available to travel on both days. For the 2023 visitor season, as of 29-May there is a single seat available on 3-Jun and one on 5-Aug - all other tourist flights are sold out.

When is payment due?
Outside of 30 days, a $200/seat deposit is required to book; payment in full must be made 30 days prior to the flight. The entire payment is non-refundable within 30 days of the flight unless cancelled by us due to weather, beach condition, etc. Although non-refundable, seats are fully transferrable to another person.

What methods of payment do you accept?
We accept cash, e-transfer, wire transfer or credit card (Visa or Mastercard). Payment by credit card will incur a 3% processing fee (resulting in a total of $2060.00). We value your security, so please call us if you want to pay by credit card - don't send your information via e-mail.


How many people will be on the flight?
Our aircraft is configured to carry up to 7 passengers so long as the weight limit is not exceeded (see next question).
Why do you need my weight?
The aircraft manufacturer has defined a maximum amount that the aircraft can safely and legally carry, so we will weigh everyone and everything that goes onto the flight to ensure that this value is not exceeded. Please be as accurate as possible when you give us your weight at the time of booking; we promise to be discreet with this sensitive information.
Is there a limit on how much I can bring along in my backpack?
There is a 10 lbs allotment of baggage per person, however, if the flight is not too close to its maximum weight we will increase the allotment for each person's pack.
Are there standards and/or compensation on the sale of individual seats?
If you are denied boarding due to situations within the carrier's control, or your baggage is lost or damaged, you may be entitled to certain standards of treatment and compensation under the Air Passenger Protection Regulations. For more information about passenger rights please contact our office or visit the Canadian Transportation Agency's website.


How long can we stay on the island?
Generally, we will aim to give you 8 hours on the island; departure from the island must occur prior to dark. On rare occasions, changing weather may necessitate an earlier departure.
Is this a guided experience?
You will start your day with a 2 hour tour led by a Parks Canada staff member. This guided walk is mandatory, so you can receive vital information on navigating safely around Sable Island. After that you are on your own for the rest of the day to explore the island's natural beauty.
What is the best time of the year to visit Sable?
Sable Island is amazing no matter when you visit. The temperatures tend to lag those on the mainland, though, so it is not uncommon to have to bundle up, even in July! Late summer can be very hot (or not), and fall tends to remain mild. Some folks wonder what month has the best chance of the flight being successful, but weather is unpredictable in this area of the world, and the only constant on Sable is change. Mid-May through July or even mid-August is known to local aviators as "fog season", August may be too dry for the beach to be landable, and September through October is hurricane season.
Is there a minimum age limit for the trip?
Due to seat configuration and limitations on safety equipment, we cannot carry children under 2 years old. That being said, Sable Island is a backcountry-like experience and a long day - we do not recommend this trip for children under the age of 12.
What about a maximum age?
The day is very long, and walking in soft sand requires a certain mobility - this trip may not be suitable for everyone. We will not dictate an age limit since everyone is different, but in the past we have had seniors who were simply not prepared to spend all day on the island. If in doubt, we'd be happy to discuss it with you.
Can I rent a vehicle or get a ride somewhere?
All guests are driven from the aircraft to Main Station, and back to the aircraft again at the end of the day. Other than that, there is no option to be driven to other locations or to rent a vehicle.