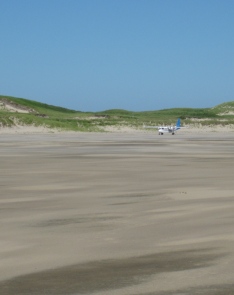 Financial Considerations
How much does it cost to fly to Sable Island?
For 2019, the cost to charter the entire aircraft for a flight to Sable Island, same-day return (regardless of the number of people on board), is $5750.00 CAD plus $71.00 Halifax airport fees plus $434.78 Parks Canada flight support fee plus 15% sales tax (HST), giving a grand total of $7194.15 CAD. Payment for flights must be made in full prior to boarding (see What forms of payment do you accept? below). The good news is that if you take advantage of our Cash Discount by paying in Canadian funds with cash or equivalent*, we will discount your flight cost by $250.00! (for a total of $6906.65)
*e-transfer, certified cheque, money order
Can I buy just a single seat on a flight?
We are offering four flights flights this summer on which single seats may be purchased, however, as of 13-Jun-2019, all four are sold out. The cost is $1400 plus 15% sales tax (HST) per person for a total of $1610 (a $55 administrative fee will be applied if paying by credit card). You must be available to travel on both the primary and back-up date. For individual seat sales (only), a $150 deposit (plus $5 admin fee if paid by credit card) is required to book - it is non-refundable unless the flight is cancelled by us due to weather, beach condition, etc, but totally transferable (i.e. you find someone else to take your place). Payment in full is required 30 days prior to the flight (again, this is non-refundable unless we cancel, but transferable).
What forms of payment do you accept?
We accept cash, e-transfer*, bank draft, or money order. Payment may also be made by Visa, Mastercard or American Express - additional fees will apply if used to purchase individual seats (see above). Sorry, but we are not set up for PayPal. Payment must be made prior to departure from Halifax if you are chartering the entire aircraft, or per the terms in the previous question if purchasing a single seat. * Some banks have a daily e-transfer limit (typically $3000), so payment by this method may require starting several days in advance; if the flight is cancelled, the full amount will be refunded.
Is there a cancellation fee if the flight doesn't happen?
If you have chartered the whole aircraft and the flight is cancelled prior to departure, you are not charged (note that this does not apply to groups who do not show up for their bookings without calling). Once the flight becomes airborne, however, you are liable for the cost of the trip (or the portion flown).
My group has chartered the aircraft - how far in advance do I pay for it?
Because many flights are postponed or cancelled due to weather, we generally wait until the day of the flight. In the case of e-transfers, there is often a daily limit, and processing can take up to an hour to complete, so we recommend that you arrange to complete payment several days ahead of your scheduled flight date, and we will fully refund the amount back to you if the flight doesn't go.

Keeping Sable Safe
Are there any restrictions when travelling to Sable Island?
Sable Island is a remote and isolated destination, so it is important to try and avoid contamination from mainland species. All equipment brought onto the island should be cleaned prior to leaving Halifax - footwear should be brushed and washed; clothing, boots and backpacks should be inspected for any seeds or invertebrates (e.g. insects, spiders, ticks). No horseback riding gear is permitted, and clothing worn around horses or on a horse farm should be machine washed or dry cleaned and then stored for five days prior to your arrival. Any footwear worn on a horse farm or around horses may not be taken on the island. By taking special care when preparing for your trip, you can participate in the protection of Sable Island so it can be enjoyed for many generations to come.

What about the garbage generated by tourists?
Tourists that travel to Sable Island generally do so because they are in awe of this special place. For this reason, they tend to be cooperative and respectful when dealing with the island's fragile ecosystems. All garbage generated by tourists, as well as any from the pilots, is bagged and brought back to the mainland for disposal. Any recyclables left in the airplane are returned for refund, and the proceeds donated to a local charity.

Flight Information
When should I book the flight?
If you are chartering the aircraft for a group visit, the flight must be booked through Parks Canada. For any given visitor season there are a limited number of travel dates available, so be sure and get your request in promptly at the start of the new year. Dates will not be assigned prior to Jan 1 of the year in which the flight is to occur.

How many people can the aircraft carry?
The aircraft can carry up to 7 passengers so long as the weight limit is not exceeded (see next question).

Is there a total weight limit for the flight?
Yes, the aircraft manufacturer has defined a maximum amount that the aircraft can safely and legally carry. This amount is 1400 lbs when carrying 7 passengers, or up to 1480 lbs with no passenger seats installed. These numbers are for operations with one pilot only, with two pilots, the weight will be reduced by approximately 200 lbs. While most flights can be operated single pilot, there will be rare occasions when aircraft configuration, scheduling, or duty day limits will require two pilot operations and the lower limit.

When do we depart from Halifax?
Departure from Halifax cannot occur until we hear from the Operations Coordinator on Sable that there is a safe area to land on the beach. This could be as early as 8 a.m., but is often later if the most recently used landing area is not suitable that day. In that case, he/she must search the entire 10 km length of the landing beach for an area that will meet the requirements for a safe runway. Sometimes there is no suitable area at all, and the flight will have to be rescheduled for another day.

How long can we stay on the island?
The length of time that visitors are allowed to stay is primarily based on time of sunset, other station operations scheduled for that day, and to a lesser extent, changes in weather. While Parks Canada has the final word on how long a group may stay on the island, departure must occur prior to dark (i.e. not long after sunset). Also, if unforeseen weather deteriorations occur in Halifax, enroute, or on the island, the pilot may require an early departure to ensure the safety of the flight. While we will do everything in our power to avoid cutting your day short, weather in the Maritimes can change quickly, and the pilot's decision will always err towards the side of caution when it comes to flight safety.
How long will it take to fly to Sable?
In normal wind conditions (i.e. tailwind on the trip out, headwind on the return), the trip to Sable takes about 1:10, with a return time of approximately 1:40.
Are flights delayed very often?
Unfortunately, yes - flights to Sable are often delayed by a few days due to poor weather or unfavorable beach conditions. Flight delays of even a few weeks are not uncommon, and on a few occasions over the years, flights have been delayed for months. Tourist flights are assigned a week-end window on which to visit. If neither of these days ends up being suitable, and the following Monday is not already booked, you may be able to try again. Every year there are groups who simply do not make it out to Sable that year due to poor conditions - such is the nature of landing on a beach on a remote island in the North Atlantic!
Please note that station operations must take priority over visitor flights. While Parks will do everything in their power to avoid bumping you, there are times when equipment requirements, stranded personnel, etc may necessitate cancellation of your booking.
What time of the year tends to have the least number of delays?
Although the weather is unpredictable in this area of the world, historically, mid to late August until the middle of September seems to provide the best rate of success for visits; unfortunately, the number of daylight hours are siginificantly less than if the flight is earlier in the season. Spring and early summer are known locally as "fog season", while later in the fall is hurricane season. In the winter, in-flight icing conditions will often delay or cancel flights.

Trip Details
What should I wear for my day on Sable Island?
Although you may want clothes for sunny weather, even in summer it can often turn cool on the island, so be sure and take a windbreaker and warm sweater. In late fall and early spring, your clothes will need to be warmer than you might expect - the wind and high humidity make Sable weather feel cooler than the numbers would seem to indicate.
Comfortable footwear is absolutely essential, as you will most likely be walking many miles in soft sand. Due to the coarse vegetation on the island and potentially semi-buried debris, flip-flops and similar footwear are not recommended. Sneakers or other shoes with a mesh upper tend to quickly fill with sand, so closed footwear is recommended.
Even on foggy or overcast days, the UV index on Sable can be very high, so along with sunglasses, be certain to wear a hat that will provide adequate sun protection, and don't forget your sunscreen and lip balm with an SPF rating. Don't forget, there are no trees, therefore, no shade on Sable Island.

What should I take with me on my day trip?
Obviously a camera is a must-have (along with spare batteries and SD card(s)), but also don't forget to pack a hearty lunch and extra snacks - there is nothing like walking in soft sand to build up a good appetite! Visitors have access to a fully equipped kitchen, including a microwave, should you feel inclined to heat your lunch. In addition to food, you may want to carry a small bottle of hand sanitizer, tissues, and, as mentioned previously, sunscreen.
Although highly unlikely, the possibility of being delayed on Sable Island does exist, so bring plenty of any prescription medications that you may require.

Can I drink the water on Sable or should I bring my own?
Sable Station uses treated well water, so there is no need to bring drinking water out to the island, however, you should bring along a water bottle to fill after you have arrived, to carry with you for hiking in the hot sun.

Is there cell phone coverage on the island?
There is no cell coverage on Sable Island, so switch that smartphone to airplane mode and enjoy the peace of this beautiful location!

Are there any vehicles, such as ATVs, that I can rent to tour around the island?
No, due to the fragile nature of the landscape and the prohibitively high cost of maintaining vehicles in such a harsh environment, vehicles are not available for rent.

Can I stay overnight on Sable Island?
At present, other than certain groups such as researchers, documentary film crews, etc that have been granted special permission, no overnight stays are allowed.