Sable Aviation is conveniently located at the Halifax Stanfield International Airport in Nova Scotia, Canada at the Gateway Facilities Hangar, 645 Pratt and Whitney Drive - the hangar can be seen from the highway as you approach the airport from the city. You can find us on Google maps, or check out the directions below.
At the Gateway Hangar, the entrance to the boarding lounge for Sable Aviation is located on the far left side of the building (the opposite end from FedEx).



Short term parking is available at the hangar free of charge for passengers on Sable Aviation flights - park in one of the "Visitor" spots or any another conveniently located spot near the guest lounge door. For contractors and others staying overnight, longer term parking may be arranged by talking to the Gateway front desk staff.
Directions from Hwy 102, exit 5a(Aerotech Business Park)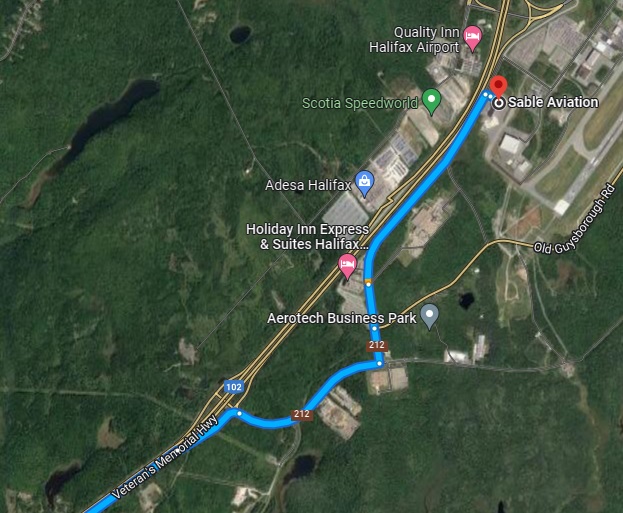 Take the exit ramp to Aerotech Drive; follow the curve and take the first left onto Pratt and Whitney Drive. This will take you past the airport hotels on a road that parallels the highway. Gateway is the second building on your right just past where the road narrows to 2 lanes.
Directions from Hwy 102, exit 6 (main airport exit)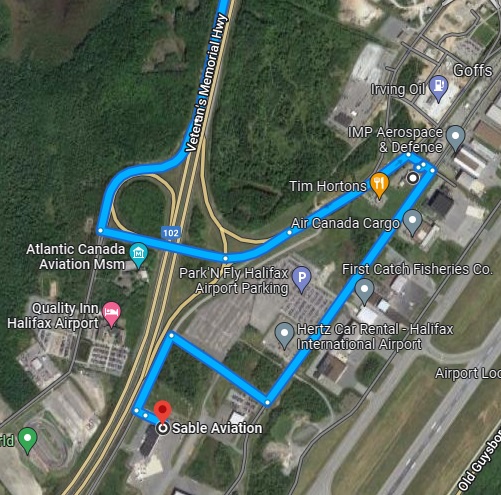 Take the exit ramp towards the main airport terminal. Just past Tim Hortons, turn right onto Red Wing Dr, then turn right onto Barnes Dr. Go past the Park n' Fly lot and turn right onto Baldwin Dr. Follow the road around as it curves left and becomes Pratt and Whitney Dr - the Gateway hangar will be the first building on your left.